I vividly remember the day George W. Bush Junior announced the war in Iraq. I was pregnant and I didn't want to think about war. I wanted to think about life. I watched all those young soldiers be deployed and thought of their mothers. And then I thought about the Iraqi mothers and the children and the lives that are inevitably and shamelessly lost with every war.
And now I'm reading a thriller set after the Gulf War and I'm thoroughly enjoying it. Written by
David Bruns
and J.R. Olson, both graduates of the US Naval Academy who share a combined 35 years of service in the US Navy,
Weapons of Mass Deception
explores the never answered question: were there really weapons of mass destruction in Iraq and if so, what happened to them?
Here's the blurb:
In 2003, the world watched as coalition forces toppled Iraqi dictator Saddam Hussein, then searched unsuccessfully for the weapons of mass destruction they were certain existed.
None were ever found, but they do exist. On the eve of the invasion, a handful of nuclear weapons was smuggled out of Iraq and hidden in the most unlikely of places: Iran.
Now, as the threat of WMDs fades into a late-night punch line, a shadowy Iranian faction waits for the perfect moment to unleash Saddam Hussein's nuclear legacy on the West.
Brendan McHugh, a Navy SEAL, meets a mysterious Iranian diplomat on a raid in Iraq.
His former girlfriend and FBI linguist discovers a link to Iran among a group of captured jihadis. And pulling it all together is a CIA analyst who can't forget about Saddam Hussein's WMDs, even if it costs him his career.
Co-author
David Bruns
is here today to tell us the inspiration behind the book. Welcome, David!
EEG:
What was the inspiration behind the book
?
DB:
Weapons of Mass Deception
is co-written with a fellow US Navy veteran and friend named, JR Olson. We also both happen to be US Naval Academy graduates, although we didn't know each other at the time. I got out of the Navy after six years, while JR served as a naval intelligence officer for twenty-one years before retiring and moving back to Minnesota.
About a year ago, we were asked to speak at the Minnesota chapter of the US Naval Academy Parents Association on what their children could expect from their time in the US Navy and a civilian career afterwards. After listening to my story of how I went from submarines to the private sector to writing full-time and JR's story as a CIA-trained case officer, one of the parents suggested we get together and write a book.
It turns out, JR is a big fan of the thriller genre and had always wanted to write a book. He had this great premise for a story that had to do with Saddam Hussein's missing WMDs...the rest is history.
We also decided to write a
weekly blog series called Two Navy Guys and a Novel
about the creative process of co-writing, the business decisions we made about publishing, and some of the more arcane details we learned along the way that didn't make it into the book.
EEG:
Why did you decide to do a crowd-funding campaign and what did you learn from it
?
DB: We launched a Kickstarter campaign in March to build early awareness for the book as well as raise money to produce a really top-notch, limited edition hardback volume. The campaign was fully funded within a week and closed at 151% of goal. To see that many supporters respond to our pitch was a tremendous boost to our self-confidence (and our wallets)!
What did we learn? How much time do you have? I wrote
a guest post for Freelancer's Union
about the experience and may write a short non-fiction ebook about the process later this year. Bottom line is that crowd-funding is a ton of work. If you believe you can just slap together a Kickstarter page and people will throw money at you, your project will be among the 59% of Kickstarter campaigns that fail.
In many ways, planning a crowd-funding campaign is a great dress rehearsal for launching your book. The book blurb and cover art need to be completely locked down. You need to produce a video that tells your unique story and why people should give you money. Finally, you need to figure out how you're going to reward all these people with meaningful gifts and still make a profit. Like I said before, a lot of work.
EEG:
Will there be a sequel and if so, can you give us a little sneak peek
?
DB: We have a related short story planned for release in June, working title "Death of a Pawn." You might recall in the news a few months ago the mysterious death of Alberto Nisman, an Argentinean lawyer and Special Prosecutor for the 1994 car bombing of the AMIA Jewish center in Buenos Aires. Nisman died of a gunshot wound to the head, just hours before was scheduled to testify on allegations that Iran was behind the 1994 bombing and Argentinean President Kirchner covered up that fact in exchange for an oil-for-grain deal between the two countries.
The Tri-Border Region of South America, where Argentina, Paraguay, and Brazil meet, is a hotspot of Hezbollah activity. (If you need a reminder, Hezbollah is Lebanese militant group found and funded by Iran following the 1982 Israeli invasion of Lebanon.) In
Weapons of Mass Deception
, one of the characters spends time in a sleeper cell in that part of the world at exactly the time when the Nisman "suicide" happened. It just seemed like most of the story was written for us.
EEG:
That's cool. Best of luck, David, and congratulations
!
For more information on
Weapons of Mass Deception
, visit
davidbruns.com
. The book is available on
Amazon
and
other retailers
and if you're like me, it's going to keep you up at night!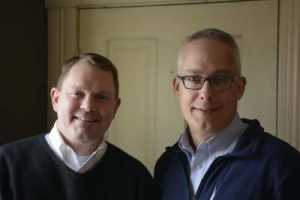 J.R. and David